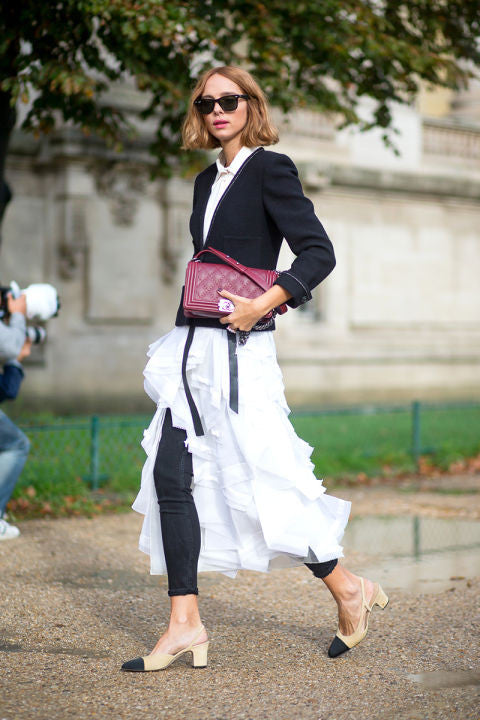 When it comes to Summer, you can never go wrong with a sandal, but this season designers have rejected ideas of what a summer shoe should be and gone all out.
This summer sees the arrival of the embellished cowboy boot, rainbow hued strappy sandals, white boots, bejewelled flatforms, embroidered wedges and the unlikely return of the hiking shoe. 
Whilst we love the idea of stomping around this summer's festivals in the western shoe and pounding the pavements in white calf high boots, there was so much to choose from this season, which made it almost impossible to pick a top four. However after a lot of deliberation and a lot of shoe fittings (poor us), we finally came up with our favourites.
The Ugly Shoe
Ever since Phoebe Philo converted us to the birkenstock back in Spring/Summer 13, ugly shoes have been on our radar.  We never thought that the traditional hiking sandal would be a Summer essential, but thanks to a little imagination, Burberry, Chanel and Alexander Wang have us hankering after the ugly sandal without the trek. 
Sneakers
Oh sneakers how we love you so. The only problem is that once you wear trainers, it's pretty hard to go back. Our love for white sneakers shows no signs of stopping and we wouldn't want it to. As always classic plimsoll styles and stan smiths are a no brainer, but this summer we're taking the lead from Calvin Klein and jazzing up a pair of skate shoes.
We love the Chiara Ferragni Flirting Sneaker...
Pointy Toe Shoes
Whilst we love to roam around in our sneakers, some days require a little extra polish. And what better than a pointed toe? Sharp and severe, the pointed shoe means business. 
For Summer loosen up with oddball accents as seen at Prada or, wear yours doused in glitter like our Chiara Ferragni flats. We also loved the Dior and Proenza Schouler takes on the office appropriate flat.
Silver
As you probably guessed, we love shiny things and it seems we're not the only ones. Rodarte, Gucci and Givenchy, all showed silver shoes for this season. We're not surprised, as there really is no better time to wear metallics than under the glare of the sun or a disco ball.